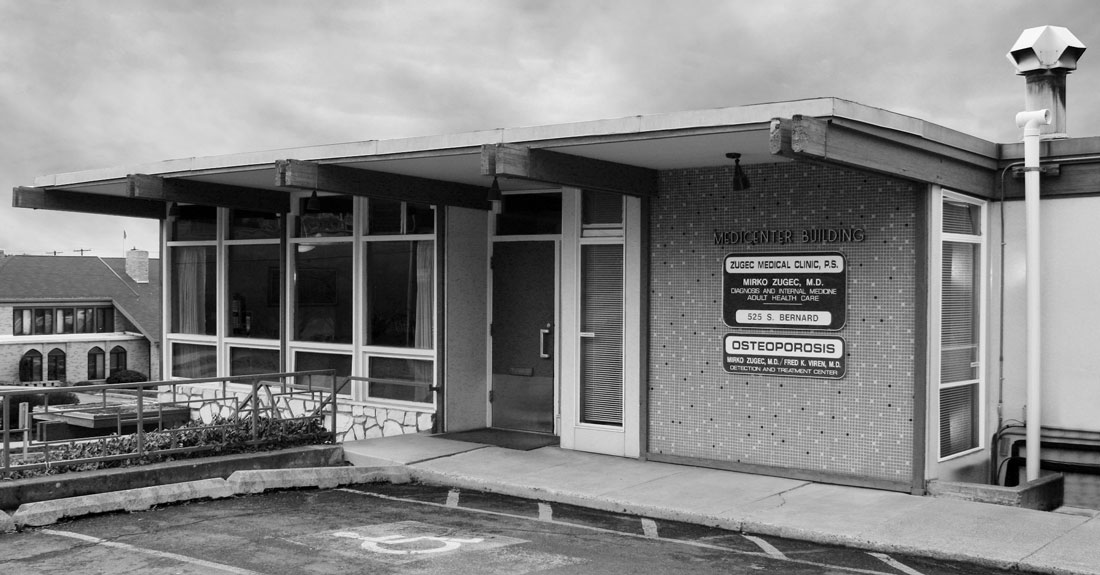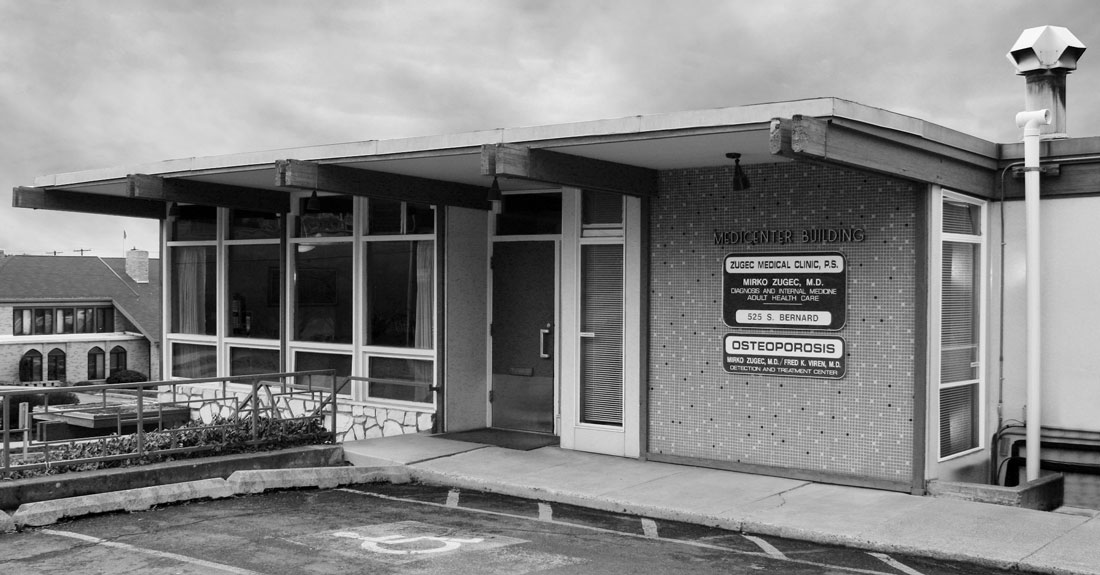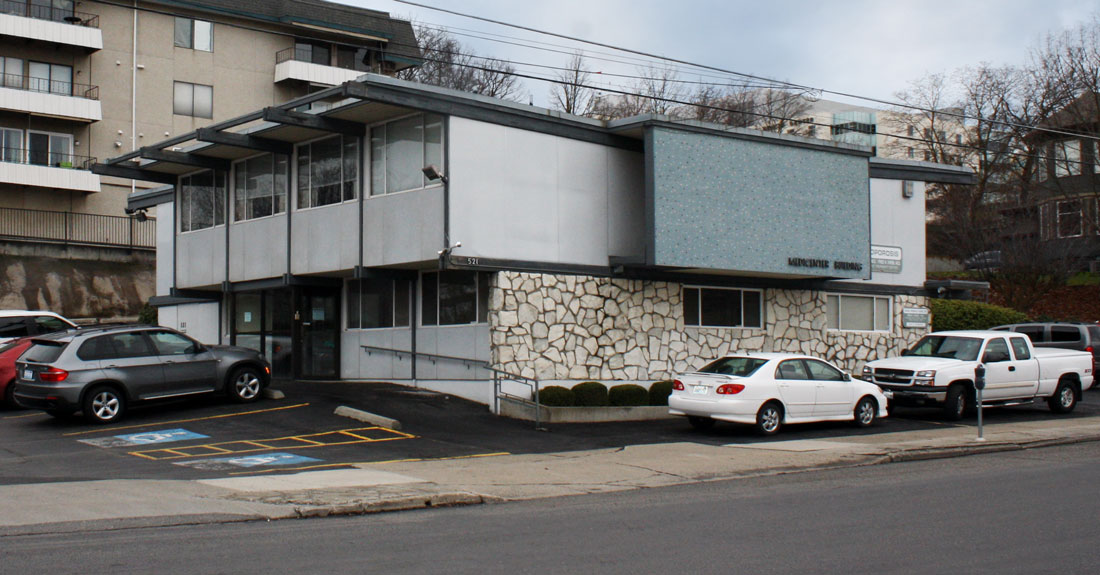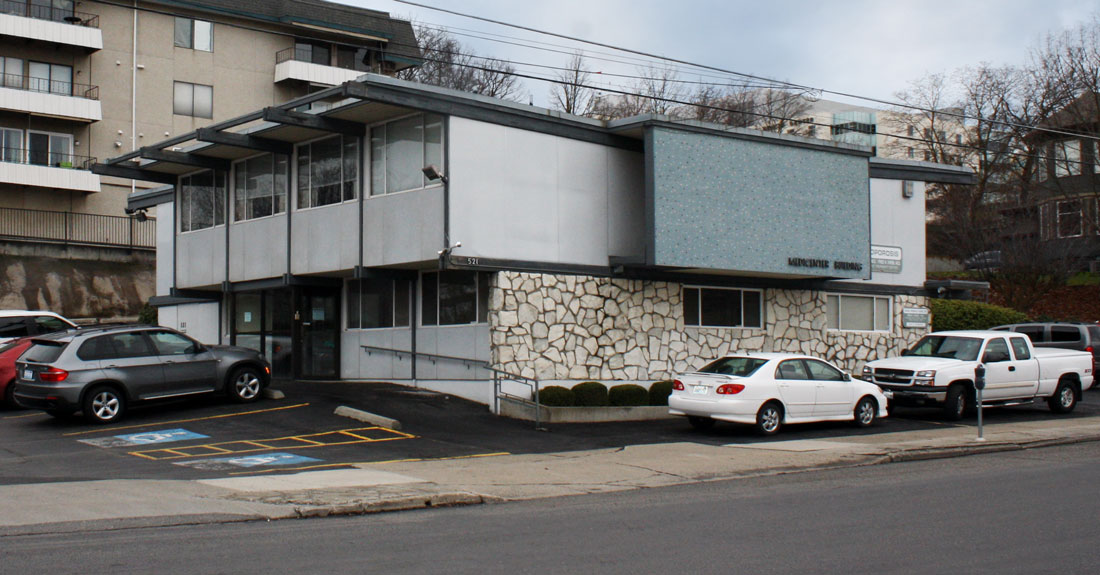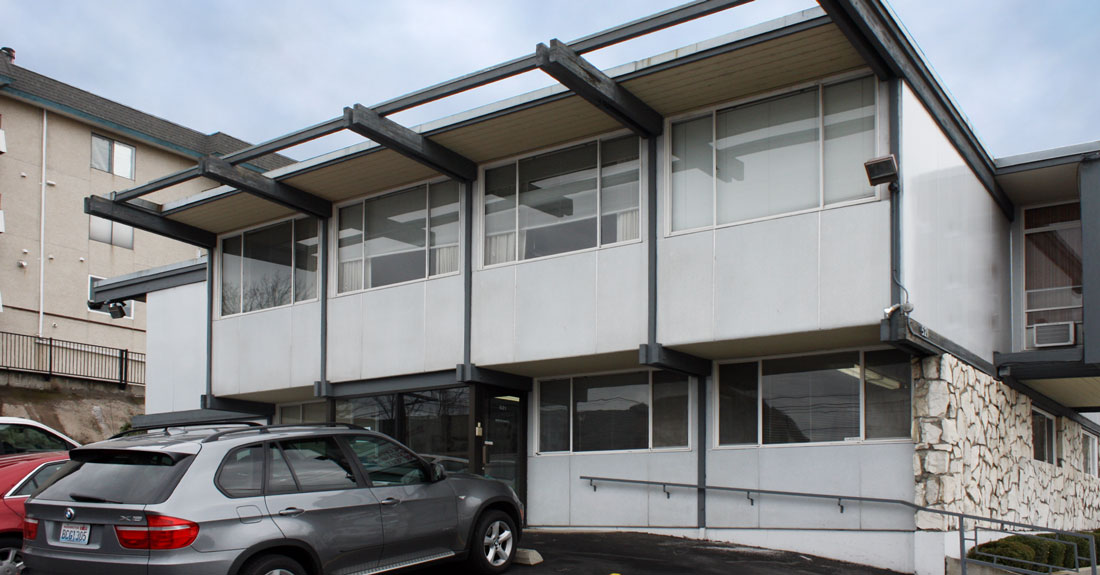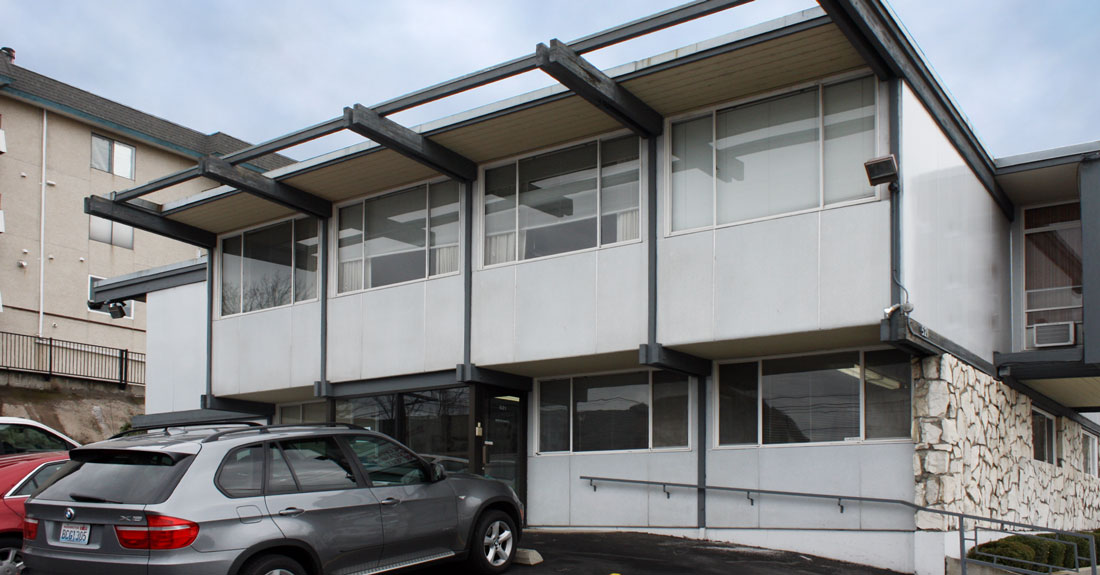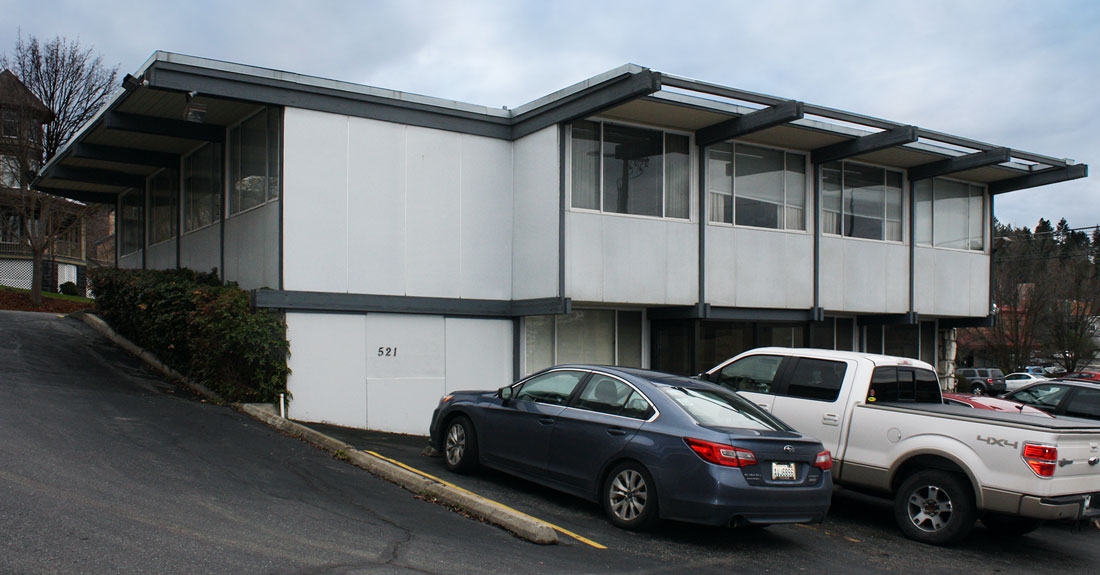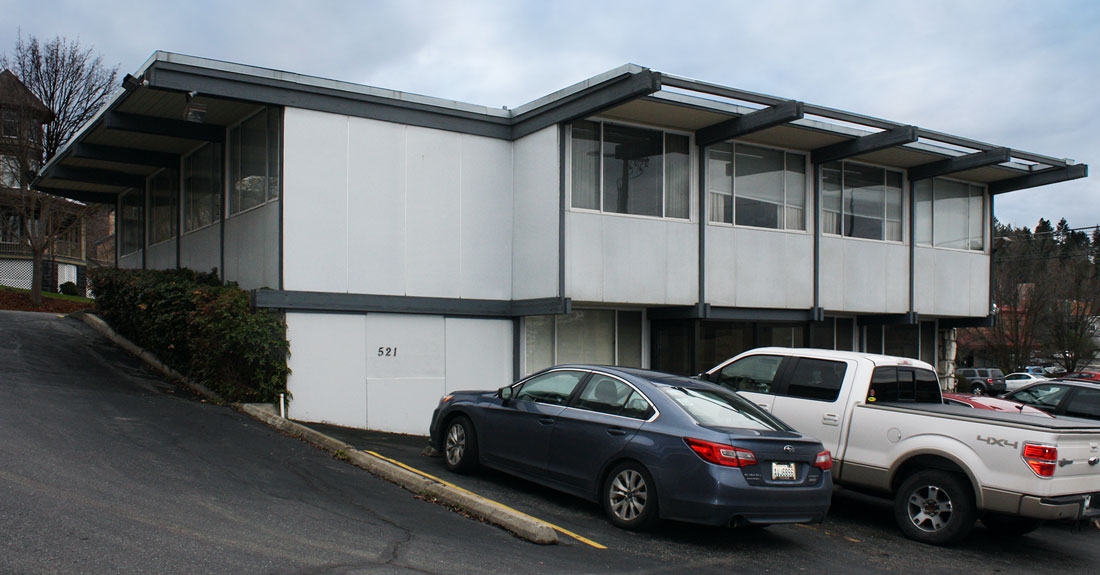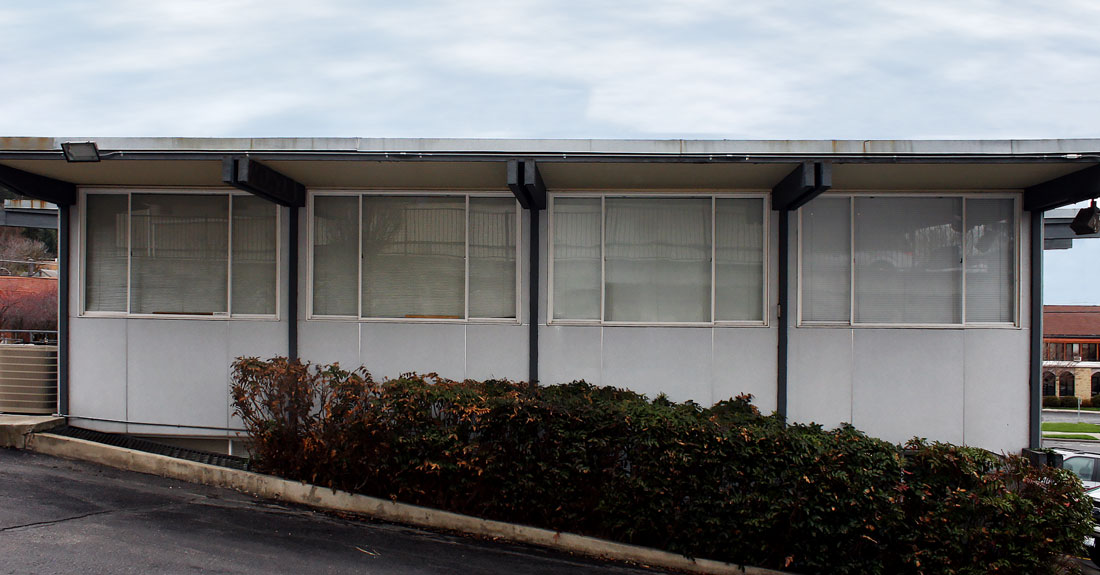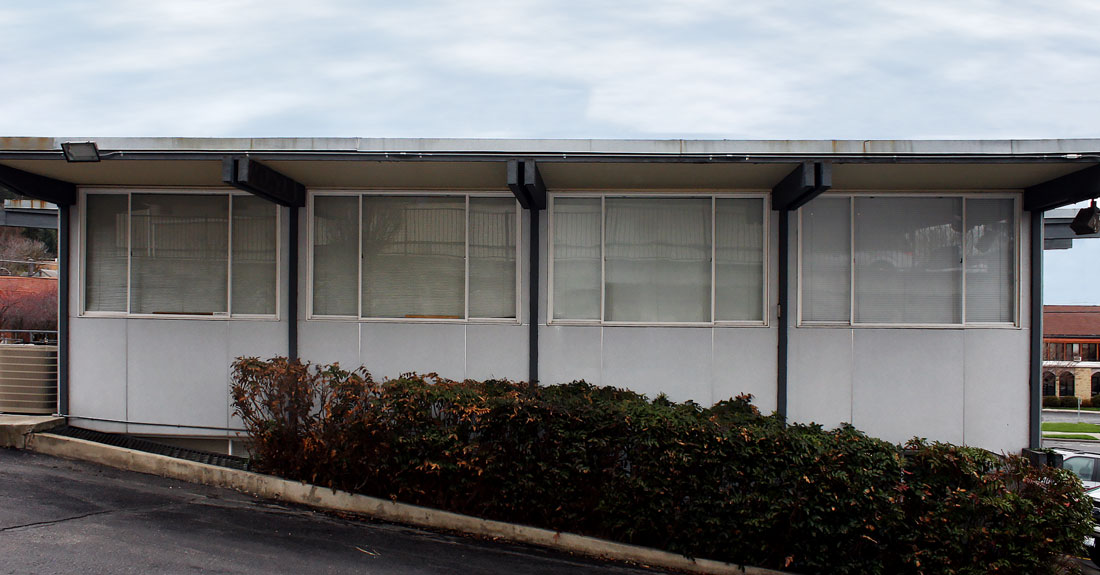 Property: Medicenter
Built: 1962
Address: 521 South Bernard Street
Architect: Henry Swoboda
Designed by architect Henry Swoboda and constructed in 1962, the Medicenter Building exhibits several tenets of Modern commercial design popularized in the post-war era, particularly the juxtaposition of multiple materials in the place of traditional architectural detailing. There are several important ideas about contemporary commercial and institutional design in the post-war era that fall under the general classification of "Modern" – qualities found in many post-war structures, regardless of style, and reflective of the underlying values of Modernism. One is the three-dimensional arrangement of forms as part of the architectural expression of the building. Another is the importance of the two-dimensional composition on any one plane as a design feature. A third Modern idea is that the pattern, texture, color, reflectivity, and other visual aspects of the building materials are also decorative features.
The Modern features seen in the Medicenter Building include the butterfly roof; the extended split beam ends, emphasizing the structural support of the roof; and the use of white stone cladding with dark grout, aluminum framing for the windows and doors, and panels of small ceramic tile, mostly in shades of blue. The post-war era was also one of experimentation with new materials; the use of a synthetic cladding on the building exemplifies this trend.
Born in Spokane on September 24, 1928, Henry John Swoboda graduated from Gonzaga Preparatory School in 1945. Following service in the Marine Corps, he earned a degree in architecture from Washington State University, and began his professional career with G. A. Pehrson in Spokane in 1952. Two years later Swoboda opened his own practice. Over the next 50 years, he designed close to 800 buildings in Washington, Idaho, and Montana. Of note in Spokane are the Flamingo Restaurant, the Stardust Lounge, the Medicenter Building, and seven buildings on Gonzaga University's campus, which include the former Museum of Native American Culture, the Health Center, and the COG. Swoboda died shortly after his 80th birthday on October 2, 2008 in Spokane.
Share this project!